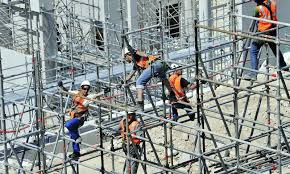 In the Commonwealth of Pennsylvania there are always many commercial, residential & industrial construction projects going on. Business owners renovating their building, new buildings being erected and residential neighborhood construction are all examples of these projects. While maintaining an existing structure or building a new one is good for economic and financial reasons it also presents a chance for severe personal injury. Scaffolding accidents are very common on construction sites. They can ultimately result in minor, severe and even fatal injuries for workers and other victims. A work site injury that is due to a scaffolding accident should be handled by an experienced Chester County Pennsylvania Workers Compensation Benefit Lawyer.
Chester County Pennsylvania Construction Accident Attorney
If you have been hurt or injured in a scaffolding accident feel free to call The Law Office of Donze & Donze at 610-444-8018. The Law Office of Donze & Donze handles workers compensation claims on a contingency fee basis meaning they charge nothing unless they recover for you.
Causes of Chester County Scaffolding Accidents
Scaffolding accidents can be caused by a variety of reasons in Delaware County and Chester County, Pennsylvania. Some are related to human error and carelessness. Others may be attributed to faulty equipment assembly or faulty products. Causes of scaffolding accidents can include:
Scaffolding Collapses
Falling Debris
Poor Or Improper Assembly
Negligent Maintenance or Inspection
Injuries Sustained in a Scaffolding Accident
Scaffolding accidents present a wide variety of injuries. The severity of the injury is often times directly related to how high the scaffold is setup and how the accident occurred. Common injuries can be bruises, lacerations and soft tissue injuries. More severe falls or accidents may end in broken bones or fractures, head neck & spinal cord injuries. Severe workplace accidents may ultimately result in paralysis or wrongful death.
Contact a Media Pennsylvania Scaffolding Accident Lawyer
If you or a loved one have been injured in a scaffolding accident it may make sense to consult with a skilled Chester County Work Injury Lawyer. Call The Law Office of Donze & Donze at 610-444-8018 regarding your claim. You may also click here to email a Kennett Square Pennsylvania Workmans Compensation Lawyer. Donze & Donze has the skills and resources to hold the proper parties accountable for your injuries whether those parties are property owners, contractors, site supervisors and/or construction outfits. As a skilled Pennsylvania Worker's Compensation Claim Llitigator Mr. Donze seeks compensation for all aspects of your case such as both current & future medical expenses and lost wages.
Serving all of ChesCo. including Paoli, Chester, West Chester, Coatesville, Downingtown, Phoenixville, West Chester University, Crozer Chester Medical Center & Kennett Square.