Pennsylvania Auto Accident Lawsuits
If you have suffered serious car accident injuries in the Coatesville, Pennsylvania area, you have legal options. At Donze & Donze, our East Goshen PA car accident lawyers will help you seek compensation for medical bills, lost wages and other expenses related to your car accident. We also help families who have lost a family member in a fatal car accident. Dial (610) 444-8018 today for a free consultation with an experienced East Goshen PA Pennsylvania auto accident attorney. We handle all ChesCo. car accident, motorcycle accident, trucking accident and wrongful death claims on a contingency fee basis meaning we charge no fee unless we recover on your behalf. To arrange your free case analysis you can also visit our Chester County Attorney podcast here.
Serving all of Chester County, PA: West Chester, Kennett Square, Tredyffrin, Goshen, Malvern, Coventry, Nottingham, Coatesville, Downingtown, Paoli, Exton, Oxford, Lower Oxford, Upper Oxford, Upper Uwchlan, PA.
Cases Our East Goshen PA Car Accident Lawyers Handle
Please do not wait another second to reach out to our Chester, PA car accident lawyers if you need any of the following:
East Goshen PA car accident lawyers
East Goshen Pennsylvania accident attorneys
Trucking accident lawyers in East Goshen, PA
Auto accident lawyers 19355
Why Choose Our East Goshen PA Car Accident Lawyers
The consequences of an automobile accident usually result in more than just vehicle damages and a traffic violation ticket. Your insurance premium goes up, your car may be damaged, and you or other passengers may sustain serious, life altering and fatal injuries. You could be facing steep medical bills, fines, and auto body work payments. All of this coupled with lost wages due to missing time at work and the financial fear can set in very quickly. In such cases, it is important to determine who is legally responsible for these expenses. An experienced West Chester, Pennsylvania auto accident attorney from Donze & Donze is an irreplaceable tool for these circumstances.
Helping Injury Victims, One Case at a Time, Since 1979
For almost 40 years our East Goshen Pennsylvania auto accident lawyers have helped thousands of clients recover financial compensation after suffering car accident injuries and injuries associated with other motor vehicle accidents:
Car accidents
SUV rollovers
Motorcycle accidents
Pedestrian accidents
Bicycle accidents
Tractor trailer accidents
Most of the time, insurers will offer the minimum amount possible to settle a car accident injury claim. That may not be enough to cover your expenses. That is where a lawyer can help. We know what a fair and just settlement is. We know how to accurately assess your injuries and loss of quality of life, among other things. Our Malvern accident attorneys will seek maximum car or motorcycle accident compensation on your behalf.
Our Coatesville Car Accident Lawyers Have What It Takes
The Downingtown, Pennsylvania injury lawyers at our firm will conduct our own investigation of your accident. We may obtain a copy of the police report, the accident report, hire an accident reconstruction expert, and get copies of all your medical charts and reports. We use this information along with in-depth communication with you to gain a full picture of the extent of your car accident injuries and their impact on your life. Then our Coatesville, Pennsylvania accident attorneys will proceed forward, thoroughly, intelligently and aggressively to seek a resolution on your behalf.
Deadline: You have two years from the date of the car accident to file a personal injury claim. However, the sooner you contact our East Goshen personal injury lawyers, the sooner we can begin investigating your accident and building a case on your behalf.
Contact Our East Goshen PA Injury Attorneys
To discuss your Chester County, PA car accident, trucking accident or other accident with our Kennett Square personal injury attorneys, please call us at (610) 444-8018 or send us an e-mail.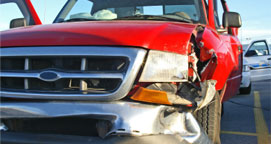 Our team of East Goshen, Pennsylvania auto accident attorneys proudly serve those who have been injured in auto accidents throughout all of Chester County, Pennsylvania including Avondale, Avon Grove, Berwyn, Chester, Chester Spring, Coatesville, Devon, Downington, Elverson, New London, Oxford, Paoli, Phoenixville, Union, , West Goshen, Fallowfield, Marlborough, Coventry, Vincent, Caln, West Caln, Londonderry, Nantmeal, Upper Uwchlan, Easttown Township, East Nottingham, West Nottingham, Pennsbury Township and West Chester, Pennsylvania.