Truck Accident Attorney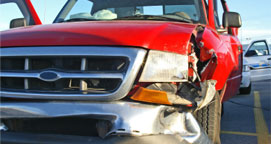 With southeastern Pennsylvania being such a transient area and having several other states bordering it there is a lot of traffic on its roads, highways and interstates. Since I-95 and I-76 run through the Philadelphia area many out of state tractor trailers go through the Philadelphia area on a daily basis. It is not out of the realm of possibility that some of the truck drivers can be under intense pressure to meet deadlines and have their cargo arrive on time to its destination. To meet these deadlines and deal with this pressure some drivers may sometimes rely on drugs and or alcohol to help them meet their agendas. Operating a car while drunk is illegal and extremely dangerous. It is exponentially more dangerous and deadly if an 18 wheeler or commercial vehicle is being operated while the driver is intoxicated, buzzed or drunk compared to a car being driven by a drunk driver. Do not wait. You need the help of our Chester PA trucking accident lawyers. You can also visit our Chester County Attorney podcast here.
Let our ChesCo. tractor trailer accident lawyers fight for you. No fee unless we win. Serving all of Chester County: Kennett Square, Chester, West Chester, East Goshen, Paoli, Coatesville, Downington, Teddystone & Wayne.
Types of Drugs Involved in Philadelphia Trucking Accidents
In a trucking accident where the driver was intoxicated there are a variety of different drugs they may have taken. Of course, they can be drunk due to alcohol consumption. They can also be intoxicated due to having taken prescription pills such as painkillers, opiates or anti-anxiety medications. Often times they buy these narcotics via the black market and do not have a legal prescription for them. If they do have a prescription for them it is important to determine if the drug was taken at or above the prescribed dosage. The use of street drugs among truck drivers is also common today. Typical street drugs involved in a tractor trailer or commercial vehicle accident are marijuana, speed, amphetamines, cocaine and crack cocaine. Speed, methamphetamines and even over the counter stimulants are also commonly involved in trucking accidents due to the driver trying to arrive at his or her destination in the allotted amount of time.
Fault & Liability In PA Tractor Trailer Accidents
Commercial vehicle accidents of all types are more complex than a car vs. car accident or motorcycle accident. This is due to the injuries being more severe, property damage typically resulting in totaled vehicles and establishing fault. It is not enough to just know that the trucker caused the accident, negotiate a settlement and be done with it. Due to the catastrophic nature of the injuries sustained it requires much more time, analysis and investigation to determine the true current and future extent of the injuries on your life. Also, big rig accidents can have several liable parties and even though the driver was in charge of the vehicle at the time of the crash operator error may not be the only cause of the crash. Vehicle maintenance logs, driver logs, cargo log review and other factors must be taken into consideration. For this reason you should not trust your 18-wheeler accident lawsuit to just any old law firm. Let our West Chester, PA trucking accident lawyers thoroughly review your case free of charge.
Pennsylvania Motor Vehicle Accident Statue Of Limitations
Pennsylvania give you 2 years from date of accident, injury or death to file a lawsuit against the liable party or parties. The legal term for this is the Pennsylvania statute of limitations. By no means should you wait that long. Consulting with, and retaining, our ChesCo. trucking accident injury lawyers immediately is a wise move. Even if it takes weeks or months to establish the full value of your claim the injuries and accident will be legally documented by our attorneys. This will protect you and ultimately make obtaining you the benefits and compensation you deserve easier.
Contact Our Pennsylvania Truck Accident Lawyers
If you, a loved one or family member has been hurt, injured or killed in a trucking accident while the driver was intoxicated call a Truck Accident Attorney at The Law Office of Donze & Donze at 610-444-8018. Or, email the firm here. It is absolutely in your best interest to work with a skilled, knowledgeable and experienced Delaware County, Pennsylvania Tractor Trailer Accident Lawyer. Mr. Donze and his staff have many years experience handling truck accident claims, determining who is liable and dealing with insurance companies. Let Mr. Donze work for you and get you the compensation and benefits you are entitled to for your injuries sustained in the truck accident. Mr. Donze handles trucking crashes and tractor trailer accidents on a contingency fee basis which means he charges no fee unless he recovers for you. Call today to arrange a free consultation.